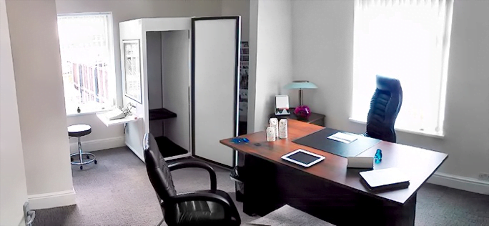 Beginning Your Hearing Journey
We pride ourselves on the high level of care and performance we offer from the beginning to the end of your hearing journey.
Our process starts with having a quick discussion about your hearing and the completion of a questionnaire. We will carry out a full comprehensive hearing check in our state of the art hearing booths. Once the hearing check is completed we will explain in greater detail how we can help to reduce your hearing difficultly and advise on the most appropriate treatments or the recommendation of the most appropriate type of hearing aid. 
Your aftercare is inclusive of completing a follow-up questionnaire to ensure we have reduced your hearing difficulties. We will allocate one of our comprehensive care plans to ensure all your future hearing needs are covered with regard to future servicing and hearing aid technical updates. 
Your Personal Hearing Care Plan includes:
FREE comprehensive hearing health check
FREE consultation and advice
FREE comprehensive after-sales care plan inclusive of regular check-ups and computerised updates to your hearing instrument
Fitting of the most appropriate type of hearing instrument from the finest in digital technology to the utmost in cosmetic appeal
Fitting of advanced Bluetooth hearing systems
Fitting of hearing instruments compatible with telephone and television devices
FREE 5-year manufacturer's guarantee on ALL makes of hearing instruments
FREE 4 year supply of batteries on ALL makes of hearing instruments
60-day money-back guarantee
Repair service for ALL types of hearing instruments
Stockists of all sizes of batteries
Home visits on request
Tinnitus management
Hearing protection
Why Choose Us
Reasons why you should choose Exclusive Hearing for your hearing care
We are an Established Independent Practice having served our customers for over 20 years in Leicestershire
Our independence means we can offer a high range of quality hearing instruments from all leading manufacturers such as OTICON, WIDEX, UNITRON, SIEMENS, RESOUND and PHONAK
Awarded platinum status for fulfilling Oticon's accreditation criteria for outstanding customer care and best practice in audiology
Awarded Excellence Partner Status from Widex for our commitment to maintaining high clinical and industrial standards
We use award-winning technology
With our comprehensive care plans, we guarantee you will receive a high level of care and performance from your chosen hearing system
A high percentage of repeat business
Outstanding 5-star reviews. Social proof of our dedication to the provision of personal care and service 
We are Leicestershire and the Northwests leading dispensary practice specialising in BrainHearing, Oticon's revolutionary new technology
Testimonials
Please feel free to read our testimonials.
I am writing to say how delighted I am with my Oticon Digital Hearing Aids. I can once again eat in restaurants and hear separate conversations, hear birds singing from inside the house, hear clearly in the Theatre and Cinema, and have been able to turn the volume down on my T.V. to the level it was at previously! I would also like to say a big Thank you to Julie, nothing was too much trouble for her when explaining everything to me.
Clare Staunton
I had concerns about my Mum's hearing so I took her along for an appointment with Julie. Mum was treated with respect and understanding (she didn't think that her hearing was a problem). Since Mum's Hearing Aids have been fitted the difference is amazing, she is joining in with all of our family conversations and her confidence has grown. I would like to thank Julie and her team for all their help.
Judith Bishop
Very pleased my Mum and dad chose Exclusive Hearing to have their hearing checked and fitted with Hearing Aids to suit their needs. Julie and her team are very professional, patient and understanding, they treated my parents with great care. Very pleased they can hear it has changed their quality of life. Would not hesitate to recommend them to others.
Tina Chadwick
Julie at Exclusive Hearing has been looking after my hearing for many years. The service I have received has always been excellent. I can honestly say that I would not be able to function without the Hearing Aids nor the care and attention that I have from Julie.
Jane Hutchinson
My elderly Mother had her hearing tested and Hearing aids fitted at Exclusive Hearing in Oadby. Julie was professional, patient and helpful throughout the whole process and helped pick out the best model of Hearing Aids to suit my Mum's needs. Thanks to Julie and her team, this whole process was made as seamless as possible. Aftercare offered is absolutely fantastic. Highly recommend.
TJ
I have been going to Julie at Exclusive Hearing at Oadby for many years. She has always been a very professional and caring person and is not happy until she has provided the most suitable Hearing Aid possible. I would definitely recommend Julie to anyone who requires help with hearing loss. Great place.
Jean Gale
Exclusive Hearing are working tirelessly to improve my significant hearing loss. They are caring and professional and have offered creative options to rectify my condition, always with a cheerful and optimistic manner.
Janet Hutchinson
The team at Exclusive Hearing are very knowledgeable and friendly, they took great care in understanding my needs, I was also surprised at the quality of the Hearing Aids. First-class and great value for money.
Kevin Edge
My new life is amazing. I no longer fear the telephone ringing at work as I can now hear the conversation irrespective of the phone – mobile or landline. My everyday interaction with my team and customers is so much easier as I can hear what they are saying. At home I can hear the TV and enjoy watching a DVD. I cannot express my thanks enough to Julie, her team and Oticon. My world is now completely filled with sound which has given me the confidence and made me so much happier. I now live life with passion and sound. Thank you!
Jill Storey
When I went to Exclusive hearing i had already tried several different hearing devices, starting with the basic NHS ones and then two other brands. My problem with them was that the sound was so artificial. Running water sounded like breaking glass etc.
I explained this to Julie Pritchard who suggested Oticon Alta 2 device which she set up so that they only boosted the area of my hearing loss.
What a difference!! I can now hear natural sounds. Music is a very important part of my life, and Julie programmed a special setting in my devices to stop them making the automatic adjustments that are so useful in the speech mode. I can now hear the full spectrum of sounds in all forms of music.
This means that I am now hearing natural sounds in any environment that I come across.
Mike Fowler
 My Oticon Opn's are so much clearer that it feels like I have a brand-new pair of ears on."
"I feel that Oticon Opn helps me better follow conversation in noisy places."
"I can actually engage in conversation. I'm finally a part of the party!"
"I can hear all the conversations at the same time, and understand all of them. I can't tell you how phenomenal this is.
Oticon Opn Users