HEARING LIKE YOU REMEMBER
Even a great hearing aid has always sounded like a hearing aid until now.
The revolutionary WIDEX MOMENT changes the game to deliver the most pure, natural sound ever.
Moment technology automatically adjusts to your real-life environment.
So don't miss out on a single moment.
WIDEX MOMENT UNIQUE TECHNOLOGIES
SoundSense Adapt– uses adaptive learning to remember your preferred settings for each environment by remembering all the volume changes you make and intelligently applies them to similar situations.
SoundSense Learn– uses a learning feature that gives you two sound profiles to choose from Simply listening to them you can select the sound you prefer as many times as you want giving you personalised sound.
Fluid Sound Analyzer– provides you with intuitive analysis of your sound environment in order to prioritise and select the most important sound sources.
Widex Moment Knows:
When it's noisy it will filter out anything that can distract from hearing speech. When in quiet situations it will help you to hear all the subtle details. 
How a meeting or family conversation sounds different from a party.
The difference between classical music and pop music. 
Moment automatically reacts to your environment around you smoothly and in real time so you don't miss a single moment. 
Widex Moment is the smallest rechargeable hearing aid on the market.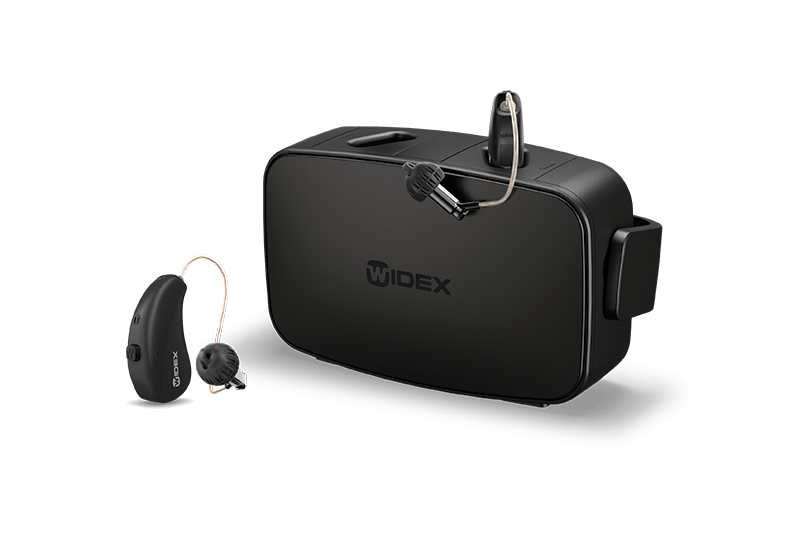 RECHARGEABILITY IS NOW DISCREET 
Convenience is discreet with the WIDEX MOMENT
Although the mini RIC R D model is the markets smallest rechargeable receiver-in-canal hearing aid, you can rest easy knowing you'll have all the power you need to hear every moment. 
No struggling with hearing aid batteries, just a slim simple charger that fits your life.
Widex Moment is available in three behind-the-ear (RIC) models and three in-the-ear (ITE) models. We can help you choose the ideal model for your specific hearing loss and lifestyle.
BEHIND-THE-EAR (RIC) MODELS

IN-THE-EAR (ITE) MODELS:
Choose between 13 colours for behind-the-ear (RIC) models and 3 standard colours for the in-the-ear (ITE) models
Prices from £2800 per pair

Special Offer: Get £200 Off (limited time only)
Widex Moment Accessories 
Moment will give you wireless connectivity to a wide range of devices such as smart phones, TV's and computers with high-quality streaming of sound.  
Moment App
Guides you to personalised hearing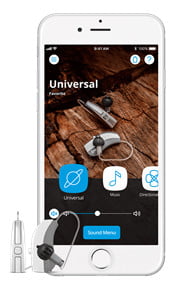 Refine your hearing in real life by listening to two sound profiles with the app and choosing which you prefer: A or B. The more times you do it, the more Moment learns about how you want to hear at that moment. You can then save your preferences as a program and use it next time you are in the same environment.
In addition the Moment App allows you to:
Mute or adjust hearing aid volume and use the equalizer to adjust sounds
Create personal programs with your own names, photos and sound adjustments
Add locations to programs and locate your hearing aid if lost.
The MOMENT app is for the MOMENT mini RIC R D smartphone-compatible model.
DEX Accessories – Connect, Control and Communicate
DEX accessories help you to effortlessly connect to audio equipment, remote controls, television and mobile or landline phones.
COM-DEX – For hands-free streaming
COM-DEX Remote Mic – For improved audibility in noise
RC-DEX – Your remote control
CALL-DEX – For discreet streaming from mobile phones
FM-DEX – For flexible streaming
UNI-DEX – For plug-and-play mobile phone use
TV-DEX – For enjoying TV
PHONE-DEX 2 – For easy landline use