Essential BrainHearing Technology – Oticon Siya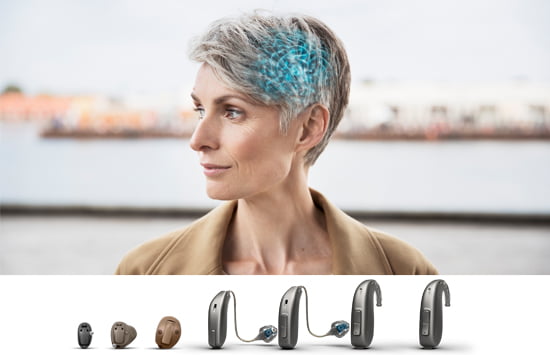 The Oticon Siya Family gives Brain Hearing support in 3 key areas.
Siya offers excellent sound quality, outstanding wireless connectivity and a comprehensive choice of styles and accessories.
3 Key areas of Essential BrainHearing support
High-resolution sound processing
Noise Resolution LX
Super-fast multiband directionality
High-resolution sound processing


Oticon Siya captures the rich natural details in sound and reproduces their nuances, due to the category-leading resolution from 48 frequency channels.
Noise Resolution LX


Noise Reduction LX is designed to improve speech understanding by providing a more comfortable listening experience. Based on proven technology Noise Reduction LX attenuates disturbing noise extremely quickly even reducing noise between words.
Super-fast multiband directionality


Siya adapts rapidly to different listening scenarios in 15 independent frequency bands. Each band shuts out individual noise sources very precisely, then smoothly transitions back to the full picture once the noise has gone. When noise becomes very loud, it focuses in on the sounds in front of the wearer.
Tinnitus Sound Support
The integrated sound generator of Siya offers a wide range of sound options including broadband sounds and three ocean like sounds. These nature sounds are dynamic, yet soothing, and show great promise in decreasing the annoyance of tinnitus.
Volume level of relief can be adjusted directly on the hearing aid or via the Oticon On app, which means easy and discreet handling and adjustment of relief sounds whenever needed. The goal is to affect the perception of tinnitus in a positive way.
Connectivity And Apps
2.4GHz Bluetooth Low Energy
Better than classic Bluetooth, Oticon Siya connects directly to I-phone, I-pad and I-pod Touch, streaming high quality stereo sound to both ears free from unwanted noise using the Oticon On App.
Internet Connectivity
Through a unique Oticon cloud solution, Siya can be linked to the If This Then That (IFTTT) network. This allows users to connect to and control an endless range of devices used in everyday life.
Ideas for use:
Turn off the lights when you leave home.
Get a voice alert when the doorbell rings.
Send a text when the battery is low.
Switch to home programme when entering the house.
Oticon Opn App
The Oticon On app gives additional control of your hearing aids at the touch of your fingertips. I-phone and Android smart phones can be directly connected to the hearing aids using Bluetooth.
The On App allows:
Adjustment of volume levels of both hearing aids and tinnitus relief sounds.
Switching between programmes.
Find My Hearing Aid search feature.
Low battery notification.
Heating Aid instructions.
Interested in one of our hearing devices?
Get in touch with us today to find out how our hearing devices can change the way your brain listens forever.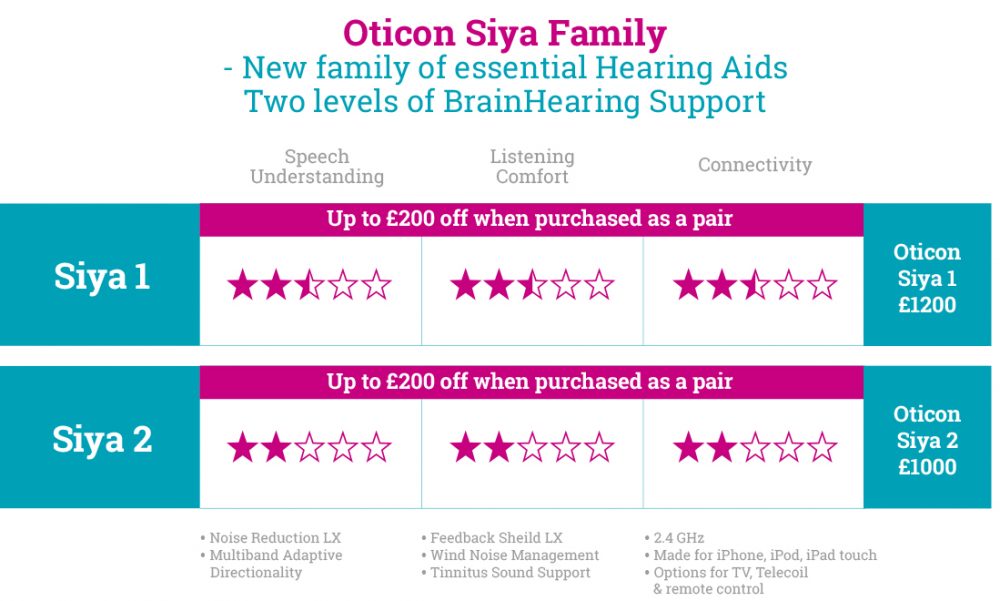 You may also be interested in;